Do you have a favorite winter hat?
Here's the scene:  second floor, Amsterisdam's Rijksmuseum after enjoying time in front of Rembrandt's The Night Watch, we are wandering in the "side galleries" of 1600-1800 materials that range from paintings to furniture to ships models.  Along the wall at eye level is a plain glass case with six small hats in it.  Why on earth would such plain hats merit inclusion in the museum?
Each hat is different, a few with peaked tops and one with a small brim.  The colors are dark, some mustard-like or forest green.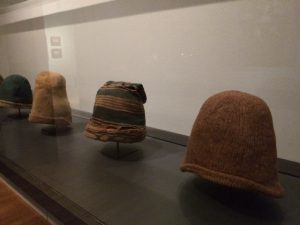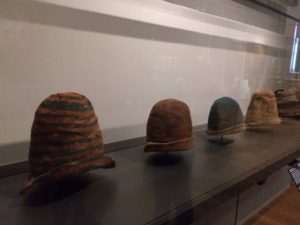 Here's what the label says:
Woolen Caps Worn by Dutch Whalers
In 1980 archaeologists investigated the graves of 185 Dutchmen—whale hunters, and workers at whale refineries—who had died on or near Spitsbergen in the 17th century.  Many skeletons were still wearing their knitted woolen head coverings.  These caps were highly personal.  The men were bundled up against the severe cold and could be recognized by the colours and patterns of their caps.  Presumably this is the reason why the caps went with them to their graves.
So, what's the story?   The hats look pretty much like hats you would see on a cold day, what's so special about them?    Spitsbergen, an Arctic island off Norway, is a long way from Holland.  So, the hats reveal Holland's commercial reach.  How is it that the hats were brought back to Holland and considered important enough to be included in the Rijksmuseum's collection?  What more is known of the hats, their makers and the men who died wearing them?  Why did archaeologists dig on Spitsbergen, what were they looking for, surely not hats?
The hats appear to be ordinary and the label tells you they are made of wool.  They are identified as being from the 17th century.  They raise these questions for me:  Who made them?  Are their designs significant?  Were their wearers important people?  How is it that they have remained in such good condition all these years?  Why are they here in a national museum?
Exhibition specialist Kathy McLean describes effective exhibitions as "conversations" and these hats start one for me.  The best exhibits make you curious, so I go on line to see what the collections section of the museum reveals.  Zilch, what next?  Write the Rijksmuseum staff to see what they can tell me.  When did you last write a museum?  Did you get a reply?  So, I use my association with museum scholarship at the University of Maryland hoping someone might pay attention.  A week later there's a reply from Lotte Jaeger in the collections department.  There are articles on the hats, but guess what, they are in Dutch.  But, I live in Washington; surely I can find someone to translate for me (or is this getting too complicated?).
I'm thinking again and again about exhibitions and their messages and how I "make meaning" of these ordinary hats.  The hats are simply what we would call "watch caps," the display is only the hats and a label.  They happen to be from Spitsbergen, which is an island off Norway and holds significance for me as I have friends who have been there (and it's the home of an international effort to store seeds from all the world's plants).  So what?  The hats are so "human" in a museum where there are world-class paintings and objects; is that why I "stop" at this case and start a conversation?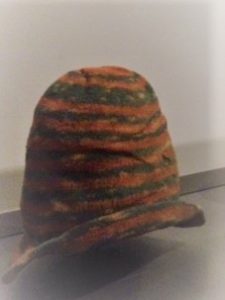 Next steps; I sent pictures of the hats to a few friends who are interested in museums (one is a knitter) and ask them what they think of these hats?  Their replies include:  "like my own hat," "contemporary designs," "like the pussy hats worn at the anti-Trump march," and "accessible to everyone."  This winter as I ride the metro I notice the knit hats and wonder at their significance to the wearer.
From the articles sent from the Rjiksmuseum collections staff I learn a lot about Dutch whaling stations on Spitsbergen. The station sites were established along the Island's northwest coast at safe anchorages, places that mimic the Dutch coastline.  One of the stations was known as Smeerenburg (which translates to "Blubbertown).  There were 7 stations with "furnaces" for processing the whale oil; they were in use from 1610 to 1660, after which over-fishing had reduced access this source of oil.
The 20th century archaeology fills out a bit more the picture of whaling and whalers. The cemetery at Zeeuwe Uitkijk (maybe the site of these hats) comprised 50 graves with 31 knitted caps.  Most bodies were buried in linen shrouds that have disintegrated leaving only fragments.  The men ranged in age from 14 to 69 and the bodies revealed evidence of scurvy disease.  The hats, sometimes consisting of two layers of fabric, were hand-knitted, not machine made.  As the label suggests they were buried with the whalers rather than being "recycled" by others as perhaps being too personal to be worn; or as mementos of identity and worthy of respect.
I'm curious what others might want to know about these hats and their importance to Dutch culture as represented in the Rjiksmuseum exhibitions.  I've shared my conversation with you, where would yours begin?
Footnote:  Smeerenburg Seminar  Report from Symposium presenting results from research into 17th century whaling in Spitsbergen, "A Man is what he wears; 17th and 18th century workman's clothing from Spitsbergen," S. Y. Vons-Comis (1987)
Mary Alexander is the co-director of the University of Maryland College Park Museum Scholarship and Material Culture Certificate Program. Inquiries can be directed to museumscholarship.umd.edu. 
Unpacking the Ariana Curtis Lecture: Understanding Afro-Latinx Museum-cology
 In October, Dr. Ariana Curtis, the Curator for Latino History at the Smithsonian National Museum of African American History and Culture, spoke as a guest lecturer at an event on Afro-Latinx Museum-cology co-sponsored by the Museum Scholarship and Material Culture Certificate Program. Situated in the basement of Tawes Hall on the University of Maryland campus, Dr. Curtis spoke to the small crowd of students and faculty about her lived experiences as an Afro-Latinx woman, others perception of the concept, and the place of Afro-Latinx objects, narratives, and peoples within museums. She provided specific examples from exhibits she was involved with from her time as a curator at the Anacostia Community Museum and the Smithsonian National Museum of African American History and Culture.
Prior to this lecture, I was unfamiliar with the term 'Afro-Latinx.' I had previously seen the term 'Latinx' used to refer to those who identify as Latino or Latina in a gender neutral form. However, that was not the topic of discussion for the night. Rather, the topic of discussion was on a different use of the word Latinx, one that described individuals of mixed Latinx and African ancestry and heritage. Dr. Curtis's lecture highlighted how these individuals, of whom she counts herself amongst, are often overlooked and unrecognized both in museum spaces and historical accounts as well as within their own communities.
According to Dr. Curtis, despite the large amount of cultural and genetic mixing that took place in the US, Latin American, and the Caribbean due to the historic abduction and mass forced migration of African peoples through the Trans-Atlantic Slave Trade, many people in the United States are ignorant of the existence of Afro-Latinx people and the different world views they possess by being situated in aspects of both African, and Latin and Caribbean cultures. As Dr. Curtis explained, this intersectionality is largely unknown, even to members of African American and Latinx communities, and that many people tend to categorize individuals solely as African/African American, Latin or Caribbean rather than mixtures of the two. This lack of recognition not only effects how Afro-Latinx individuals see and identify themselves, but also how other people accept and view their identities.
This is partially why Afro-Latinx people are still subject to discrimination and othering, like many African American and Latinx individuals. Dr. Curtis has even experienced this at her current place of work, the Smithsonian National Museum of African American History and Culture. A place she described as a predominantly African American work space. Still, she described an interaction she had with a colleague where in mention to planning an upcoming event the colleague referred to Dr. Curtis and her staff in the Latino History department as "you people." This type of othering, while appearing unintentional, highlights many people's inability to perceive the overlapping and dynamic aspects of those within their community, who they themselves may possibly view as outsiders. Encountering these recognition obstacles can lead to issues of identity and acceptance, which is something Dr. Curtis address though her museum work.
Through her curatorial works, Dr. Curtis combats this narrow world view through her exhibitions and educational programs. With the exhibit "Black Mosaic.", Curtis was able to show the variety to African American experiences and send a message to her audience about how there are multiple views of "blackness" within African American communities and that they are all equally valid, as no one person or group has the right to own or define "blackness" for everyone. She accomplished this through a very visual presentation of different skin colors, clothing styles, and languages, which highlighted the different viewpoints being presented in the exhibit. By emphasizing the intersectionality and the multivocality of the people she presents Dr. Curtis is able to influence future conversations about them both inside and outside of the museum, as well as increase recognition for Afro-Latinx people within the United States, Latin America, and the Caribbean.
Throughout the lecture it became apparent just how difficult this process of inclusion and recognition within a museum setting is. Developing these exhibits is very challenging and is grounded in knowing who your intended audience is according to Dr. Curtis. This is because that knowledge impacts how she structures the exhibit and how it depicts the Afro-Latinx narrative. Based on her own curatorial experiences, Curtis recommends presenting a balanced exhibit grounded in common understandings and relatability. Not every visitor who comes to see the exhibit will be Afro-Latinx, but it is still important that others see some part of themselves or connection to their lives in the exhibit. This can be done by focusing on shared experiences and the coming together of communities. A notion that harkens back to one of the famed "Principles of Interpretation" put forth by National Park Service Chief Interpreter Freeman Tilden. Dr. Curtis believes exhibits like these will encourage critical thinking and expand understanding, which is what is needed to get people talking about life experiences from an intersectional perspective. This greater understanding will influence future generations and affect the conversations they will have regarding the intersectional nature of race and culture.
I found this lecture to be incredibly thought provoking and beneficial as both a student within the MSMC certificate program and also as a white person coming from a place of privilege as a student within the museum world. Prior to this lecture, I was ignorant to the existence of Afro-Latinx cultures and thus was unaware of the issues of identity and acceptance that effect these individuals and how they are portrayed (if they are portrayed) in museum spaces. The Museum Seminar class, one of the three core classes of the MSMC certificate, places emphasis on acknowledging intersectionality and incorporating an intersectional perspective in exhibit curation and design. I had already found this lesson to be important as museum spaces often cater to specific audiences or else their established audience, which tends to not include an intersectional focus. However, after this lecture I can see why it is so vital. Museums have the power to affect how some people are viewed in society and it can take a communal identity, like Afro-Latinx, which has been ignored or overlooked in mainstream America and in other museums and really shine a light on it. This work is important, and it will need the support of museum practitioners and students alike if it is to continue successfully.
Sara Downard is a second year MA student in the Department of Anthropology at the University of Maryland College Park and a student in the Museum Scholarship and Material Culture Certificate program. Email inquiries can be directed to slbdownard@gmail.com.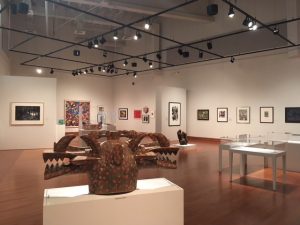 Installation shot of The Last Ten Years: In Focus
An Anthropologist in the Art Museum: Reflections on the Curation Process for The Last Ten Years: In Focus
As a second year Master's student at the University of Maryland, College Park, I'm working on a lot of projects: my forthcoming degree will be in Anthropology, with a concentration in Environmental Anthropology, but I'm also enrolled in UMD's Museum Scholarship and Material Culture Certificate Program. On top of that, I work full time as a graduate assistant at the David C. Driskell Center for the Study of the Visual Arts and Culture of African Americans and the African Diaspora at the University of Maryland, College Park–UMD's art gallery and research center devoted to African American Art and Art History. This path has given me an incredible opportunity to unify my longstanding interests in anthropology, museums, and the environment. I'll be discussing two of those interests today in this reflection on my first foray into art exhibition curation.
In the spring of 2017, I was offered the opportunity to assist in the curation of the Driskell Center's fall 2017 exhibition, The Last Ten Years: In Focus; Selections from the David C. Driskell Center Collections. The exhibition was drawn both from the Driskell Center's permanent art collection and its archives, and it had the specific goal of highlighting new acquisitions made in the last ten years. As an anthropologist, I jumped at the chance to work with the objects in the Driskell Center's wide and interesting collection. The process of curating the show afforded me the opportunity to meld my museum scholarship with museum practice; it also taught me a lot about the idiosyncrasies of curation.
One early influence on my own curation strategy was the coursework I was doing in the spring of 2017. I was enrolled in the Introduction to Museum Scholarship class, taught by Mary Alexander, and in this class we had the opportunity to visit multiple institutions, one of which was The Phillips Collection in Washington, D.C. While at The Phillips Collection, we encountered the notion of grouping objects by what was "in conversation" with each other – this idea, and many of the discussions and readings I encountered in the Intro to Museum Scholarship course (which is the first in the sequence leading to the graduate certificate in Museum Scholarship and Material Culture) had a deep effect on the way I thought about the The Last Ten Years: In Focus.
I co-curated The Last Ten Years: In Focus with professor Curlee R. Holton, the Driskell Center's executive director. We began this process in late spring by pulling a list of objects accessioned in the last ten years. I was responsible for selecting a quantity of objects that would make up the show. To do this, I operated from a standpoint of selecting objects or images that were interesting to me both as an amateur art curator and an anthropologist. I also tried to honor the scope of the art collection by selecting a diversity of media, attempting to achieve gender parity in the artists in the show, and spanning a wide range of art history. During this process, I looked at images of everything from Negro Leagues baseball ephemera to antique dolls to African objects and plenty more. After I made my first pass through the collections, I consulted with the Center's Deputy Director, Dorit Yaron, who was very helpful in mentioning works that bore further consideration, hidden gems, or bringing in local artists whom I had missed on the first round of selection.
I mentioned above that I curated the first round of items from images: this is because almost none of the art was on site. From the summer of 2016 to the summer of 2017, the Cole Fieldhouse (attached to our building) was under construction, and the art collection has been moved offsite to prevent damage from the various environmental stresses that construction can cause. Because of this, I had, therefore, seen only a handful of the objects I was selecting for the show in person.
But this process evolved when the Driskell Center was given the all-clear on major construction, and the collection was brought back to the Center over the summer of 2017.  I had a hand in helping to unpack the collection, and this was one of the ways we discovered other pieces in the collection that hadn't been selected in the first round of curation. Showing up to work over the summer felt like Christmas every day – unpacking a work in the permanent collection from storage, moving it to its home in the vault, and then getting another. Getting to know the collection on such an intimate and visceral level helped us all to make The Last Ten Years a much stronger show by showing us the power of certain works' physical presence. When you've only seen a picture of a piece of art, it's hard to understand the scale or presence of the piece. After the collection was back on site, curation became administration – pulling together all the proper records for the pieces, creating a checklist and labels and proofreading, re-proofreading, adding and subtracting a few pieces at the last minute, etc.
Professor Holton and I also made a few curatorial decisions about display practices for the show. Traditionally, the Driskell Center only provides interpretation in the form of a wall text at the beginning of the show, but for The Last Ten Years, we wanted to open up dialogue about the collection and for the visitors. To this end, we created 10 "conversation labels," which contained the standard information for the pieces in the show (artist, title, year, medium, credit line, etc.) and an additional two-paragraph "dialogue" between Professor Holton and me. The purpose of these labels was to shine a light on why we chose some of the works we did, as well as different modes of interpretation between an artist/art historian (Professor Holton) and an Anthropologist (myself). The labels also contained questions – as an anthropologist, I'm interested in the ways we construct categories and genres, etc., so I asked things like "What is a portrait? What makes a portrait good or effective? Does it need to be totally true to life, or can it depart from reality in certain ways?" Additionally, I created an audience response wall visible upon exiting the gallery which contained prompts such as "I SAW," "I FELT," and "I HAVE A QUESTION" so that visitors could talk back to the show. We've already received some wonderful feedback.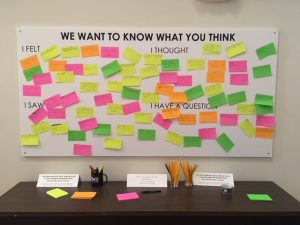 The audience response board created for The Last Ten Years: In Focus. Audience members wrote thoughts and feelings on cards and pinned them to the areas around the prompts.
Once the process of selecting the works in the show was complete, the process of installation began. I mentioned above that the process of curating this show included some departures from traditional Driskell Center choices, and the installation for The Last Ten Years In Focus was no different. From the start, I wanted this show to be jam-packed full of work, because the Driskell Center's collection is so full of wonderful pieces. My own personal aesthetic tends towards more dramatic modes of display, and to this end, we experimented in The Last Ten Years with intimate settings and salon-style hangings. The process of installing the show was its own journey — and perhaps it will be the subject of a future blog post.
The Last Ten Years: In Focus will be on view until November 18, 2017. To learn more about The Last Ten Years: In Focus, including gallery hours, please visit the Driskell Center's website, www.driskellcenter.umd.edu.
Kevin McDonald is a second year MAA student in the Department of Anthropology at the University of Maryland. His research interests include environmental anthropology and museum scholarship. He can be reached on Twitter at @oykevalt and Instagram @cinaedus. Email inquiries can be directed to KevinRyanMcDonald@gmail.com.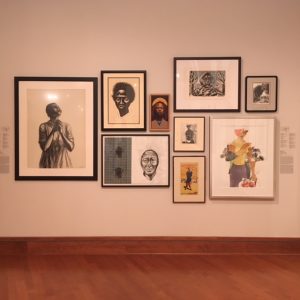 An example of one of the "salon-style" hanging areas, focused on portraiture.