Upcoming Events

Spring 2023 MSMC Practicum Project Presentations
This semester, 15 MSMC students worked on independent practicum projects with a wide variety of museums and cultural institutions. Join us on May 11th & 15th to learn more about their work!
May 11, 5 to 8 pm, ESJ 2309
Research & Partnership Practicum Projects
This group of presentations will focus on research projects and those that students worked on in partnership with museums and cultural institutions
May 15, 5 to 8 pm, ASY 4213* 
Collaborative Practicum Projects
Alongside a private view of their exhibition, Heart of the Table, students will present their collaborative process and individual roles.
* This event will be in the Michelle Smith Collaboratory for Visual Culture
---
Past Events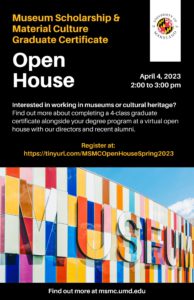 Interested in working in museums or cultural heritage?
The Museum Scholarship & Material Culture Graduate Certificate Program is hosting an open house. Find out more about completing a 4-class graduate certificate alongside your degree program at a virtual open house with our directors and recent alumni. 
Applications to the program are now open!
When: April 4 from 2-3 pm
Where: On Zoom
---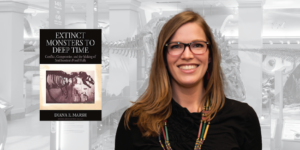 MSMC & the College of Information Studies present 
Museums in the Infodemic: A Paperback Book Launch Featuring Behind-the-Scenes Stories
March 17, 2023, 11am – 12:30 pm
Online or in person at UMD College Park, Hornbake South, Room 2119 (Directions)
Registration required
In honor of the paperback release of Extinct Monsters to Deep Time, the Center for Archival Futures and the Museum Scholarship and Material Culture program at the University of Maryland invite you to a critical conversation about the shifting responsibilities of museum practitioners in an era of information (and misinformation) overload—and how this is changing the way that museums communicate with the public. Renowned experts in collections and exhibitions will join us to share behind-the-scenes stories and discuss their efforts to convey hard truths about our shared past, present, and future in the current information landscape.
Speakers:
Ariana Curtis, National Museum of African American History and Culture
Steven Luckert, United States Holocaust Memorial Museum
Diana Marsh, University of Maryland, Author of Extinct Monsters to Deep Time
Jennifer Shannon (Moderator), National Museum of the American Indian
Lindsay Zarwell, National Geographic
About the Book:
Extinct Monsters to Deep Time: Conflict, Compromise, and the Making of Smithsonian's Fossil Halls is an exploration of the growing friction between the research and outreach functions of museums in the 21st century. Describing participant observation and historical research at the Smithsonian's National Museum of Natural History as it prepared for its largest-ever exhibit renovation, Deep Time, the author provides a grounded perspective on the inner-workings of the world's largest natural history museum and the social processes of communicating science to the public.
---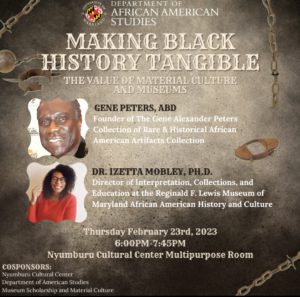 MSMC, the Department of American Studies, the Nyumburu Cultural Center & the Department of African American Studies present
Making Black History Tangible: The Value of Material Culture and Museums
February 23, 2023, 6-7:45 pm
In person at UMD's Nyumburu Cultural Center Multipurpose Room 
with
Gene Peters, ABD
Founder of the Gene Alexander Peters Collection of Rare & Historical African American Artifacts Collection
&
Dr. Izetta Mobley
Director of Interpretation, Collections, and Education at the Reginald F. Lewis Museum of Maryland African American History and Culture
---
MSMC's Fall 2022 Lecture & the Historic Preservation Program's Marvin Breckenridge Patterson Lecture with Dr. Andrea Roberts, Teaching Digital Curation as Place Preservation
September 14th, 2022, 6 pm
Dr. Roberts shared her pedagogical innovations with digital curation as a research method, including challenges and insights gleaned from The Texas Freedom Colonies Atlas and Survey – a virtual research project with social justice aims. She highlighted the educational contributions of direct engagement with grassroots African American preservationists and planners and discussed the role of the digital humanities in offering creative strategies for integrating social theory and humanistic inquiry. By foregrounding the humanities, her approach makes visible communities and equity issues not otherwise apparent.
Dr. Andrea Roberts is an Associate Professor of Urban and Environmental Planning and the Co-Director of the Center for Cultural Landscapes at the University of Virginia. As a scholar-activist and founder of The Texas Freedom Colonies Project, she raises awareness of historic Black settlements' challenges and mentors emerging scholars working within these communities.
---

MSMC's Spring 2022 Talk with Dr. Porchia Moore, Iron Sharpens Iron: Tools for the Revolution 
A Critical Dialogue on EAIJ, Museums, and Race
Dr. Moore shared critical insight and provocations for 21st-century museum work. Dr. Moore shared strategies and inquiries for emerging museum professionals seeking to be change agents against a cultural heritage landscape fraught with interrogations on race and racism.
Using the scholarly legacies and wisdoms of Audre Lorde and bell hooks, Dr. Moore made a case for the need for new dimensions in museum praxis to better serve visitors and ourselves in a changing world.
Dr. Moore is the Director/Program Head and Assistant Professor of Museum Studies at the University of Florida. She is a museum visionary and activist-scholar who employs Critical Race Theory to interrogate museums and other cultural heritage spaces. Her research examines the intersections of race, community, technology and social media, and inclusion in museums. A Co-Director and Project Advisor for the Incluseum, her writing and research is used as training and learning materials at museums across the country.
---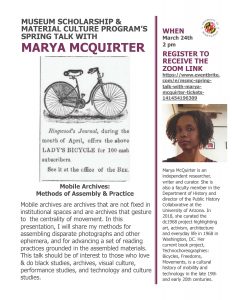 MSMC's Spring 2021 Talk with Marya McQuirter, Mobile Archives: Methods of Assembly and Practice
Mobile archives are archives that are not fixed in institutional spaces and are archives that gesture to the centrality of movement. In this presentation, I shared my methods for assembling disparate photographs and other ephemera, and for advancing a set of reading practices grounded in the assembled materials. This talk should be of interest to those who love & do black studies, archives, visual culture, performance studies, and technology and culture studies.
Marya McQuirter is an independent researcher, writer, and curator. She is also a faculty member in the Department of History and director of the Public History Collaborative at the University of Arizona. In 2018, she curated the dc1968 project highlighting art, activism, architecture, and everyday life in 1968 in Washington, DC. Her current book project, "Technochoreographies: Bicycles, Freedoms, Movements," is a cultural history of mobility and technology in the late 19th and early 20th centuries. 
---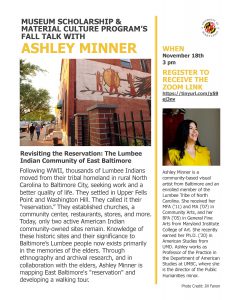 MSMC's Fall 2020 Talk with Ashley Minner, Revisiting the Reservation: The Lumbee Indian Community of East Baltimore
Following WWII, thousands of Lumbee Indians moved from their tribal homeland in rural North Carolina to Baltimore City, seeking work and a better quality of life. They settled in Upper Fells Point and Washington Hill. They called it their "reservation." They established churches, a community center, restaurants, stores, and more. Today, only two active American Indian community-owned sites remain. Knowledge of these historic sites and their significance to Baltimore's Lumbee people now exists primarily in the memories of the elders. Through ethnography and archival research, and in collaboration with the elders, Ashley Minner is mapping East Baltimore's "reservation" and developing a walking tour.
Ashley Minner is a community-based visual artist from Baltimore and an enrolled member of the Lumbee Tribe of North Carolina. She received her MFA ('11) and MA ('07) in Community Arts, and her BFA ('05) in General Fine Arts from Maryland Institute College of Art. She recently earned her Ph.D. ('20) in American Studies from UMD. Ashley works as Professor of the Practice in the Department of American Studies at UMBC, where she is the director of the Public Humanities minor.