Past Events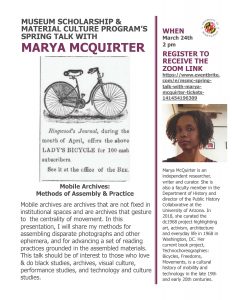 MSMC's Spring 2021 Talk with Marya McQuirter, Mobile Archives: Methods of Assembly and Practice
Mobile archives are archives that are not fixed in institutional spaces and are archives that gesture to the centrality of movement. In this presentation, I will share my methods for assembling disparate photographs and other ephemera, and for advancing a set of reading practices grounded in the assembled materials. This talk should be of interest to those who love & do black studies, archives, visual culture, performance studies, and technology and culture studies.
Marya McQuirter is an independent researcher, writer, and curator. She is also a faculty member in the Department of History and director of the Public History Collaborative at the University of Arizona. In 2018, she curated the dc1968 project highlighting art, activism, architecture, and everyday life in 1968 in Washington, DC. Her current book project, "Technochoreographies: Bicycles, Freedoms, Movements," is a cultural history of mobility and technology in the late 19th and early 20th centuries. 
---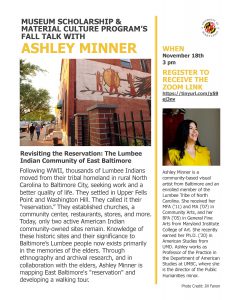 MSMC's Fall 2020 Talk with Ashley Minner, Revisiting the Reservation: The Lumbee Indian Community of East Baltimore
Following WWII, thousands of Lumbee Indians moved from their tribal homeland in rural North Carolina to Baltimore City, seeking work and a better quality of life. They settled in Upper Fells Point and Washington Hill. They called it their "reservation." They established churches, a community center, restaurants, stores, and more. Today, only two active American Indian community-owned sites remain. Knowledge of these historic sites and their significance to Baltimore's Lumbee people now exists primarily in the memories of the elders. Through ethnography and archival research, and in collaboration with the elders, Ashley Minner is mapping East Baltimore's "reservation" and developing a walking tour.
Ashley Minner is a community-based visual artist from Baltimore and an enrolled member of the Lumbee Tribe of North Carolina. She received her MFA ('11) and MA ('07) in Community Arts, and her BFA ('05) in General Fine Arts from Maryland Institute College of Art. She recently earned her Ph.D. ('20) in American Studies from UMD. Ashley works as Professor of the Practice in the Department of American Studies at UMBC, where she is the director of the Public Humanities minor.